Ever wonder which stabilizer to use?  Superpunch has a complete embroidery stabilizer guide to help you select the best stabilizer for your application.   Please check out our guide where each type of stabilizer is explained. 
This embroidery stabilizer guide will help you to make the right decision to choose the perfect stabilizer for your application.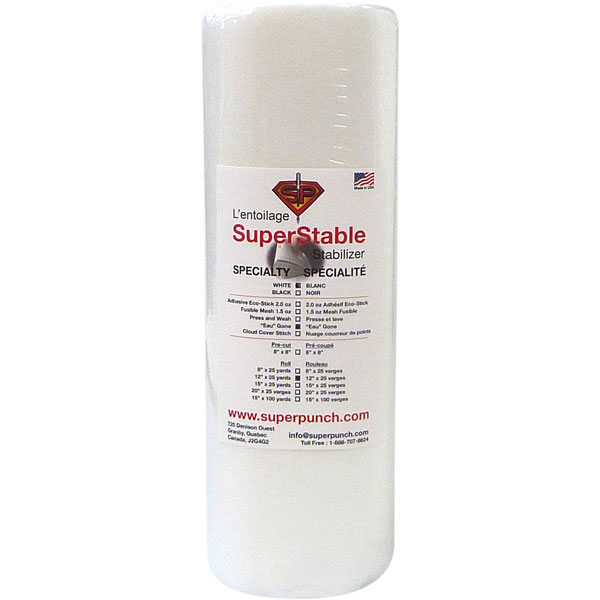 Embroidery Stabilizer and Backing Guide
For most products: 
1. Cut the stabilizer at least 1/2″ or longer on all sides of the hoop. Hoop the stabilizer and your fabric on top so that you approach a "tambourine" skin type tension in your hoop. You want to achieve "tight as a drum" tension without stretching or distorting the fabrics. 
2. Embroider the design using your SuperStable product. 
3. Remove the product from the hoop and trim away as much of the stabilizer as possible.
Fuse Cloud Cover Stitch over the back of a finished design to cover scratchy stitches on the backside of embroidery designs. It is soft and sheer – ideal for baby garments, golf shirts,or tees. Anywhere to avoid a scratchy irritant to the skin!
Please note: Cloud Cover Stitch is not a stabilizer. Cloud Cover has a very unique multi directional stretch. Applied with an iron, It bonds at a moderate temperature with your fabric but will in no way adversely affect the drapability of your garment.
Vilene Tacky is a fibrous water-soluble stabilizer with a pressure sensitive sticky coating for holding hard to hoop items in place while you stitch or embroider.
Any fabric which you want stitches to remain on top after the embroidery where complete stabilizer removal is needed. Same use as Water soluble, but adhesive.
This stabilizer soft and sheer is a complete washaway stabilizer, leaving no residu. It dissolves easily in tap water leading to a far tighter definition, while being less messy than film stabilizers, as fibers hold stitches.
Eau gone is a fibrous washaway stabilizer for free standing lace, fleece and pashmina. Spray water after application and it dissolves. ideal for lingerie, baby clothing, Free Standing Lace (FSL), Emblems, Napkins etc.
STICK IT IF YOU CAN'T HOOP IT ! A 1.5 oz firm
clean adhesive tearaweay with a very needle friendly formula for hoopless and clamp type applications. Made of polyester and cellulose.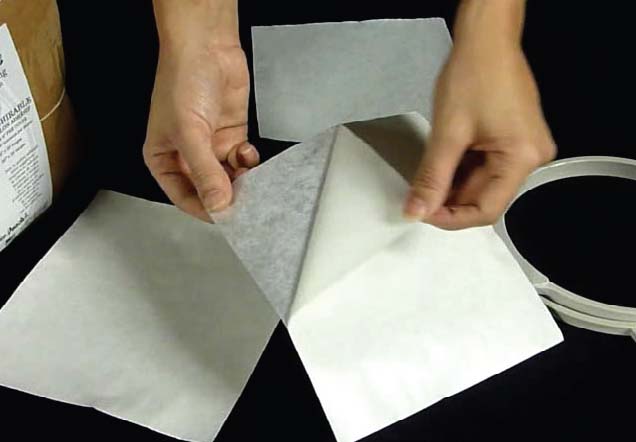 Perfect for those difficult jobs like: CD Cases, Cooler tops, heavy towels or blankets, collars and cuffs, socks, and heavy jackets or anything that is difficult to hoop.  
1-Place one piece of Press ad Tear in the embroidery frame with the release paper side facing up.
2-Score the surface or the corner of the release paper.
3-Peel back the paper to expose the pressure sensitive adhesive sticky surface.
4-Stick down the item to be embroidered and pat
and smooth out any wrinkles.
5-Stitch away.
6-Remove the stabilizer excess stabilizer by gently tearing it away from around the design.
Thin, easy to tear, crisp stabilizer. A consistent,
dense, firm, wet laid non woven clean tearaway. This is a premium grade containing silicone lubricants to promote needle glide. Polyester and cellulose.
Can be hooped to sew on a variety of fabrics such
as jeans, polyester, cotton and heavy garments. It can hold up to 5000 stitches per layer and can be mixed in a sandwich with the invisible mesh to create a super stable environment. If you
have to use many layers then switch to a heavier
grade.
Most popular and most used tear away. It is pure
white and very soft as it contains more polyester.
The 1.8 oz soft tear is a premium grade containing lubricants to promote needle glide.
All types of applications and a wide variety of item and fabrics where a stable environment holds up to 10,000 stitches.
The most versatile black stabilizer on the market. A wet laid dense non directional , non woven cutaway. It can either be a cut or a tear away, therefore this is your perfect all usage black backing. if you need only 1 black stabilizer, this is it!
This 2.5 oz black can be a tear away or even a cut
away, depending on your application, up to 20,000 stitches. Once the needles have penetrated this stabilizer, it can be torn away.
A very popular light cut away for the home embroiderers. A Premium grade "wet laid" dense, soft, drapable non directional, non woven cutaway. This item contains lubricants to promote needle glide. Made of polyester and cellulose.
Can be used on thicker garments such as fleece,
polar, wool with densed embroidery up to 10,000
stitches. If you need more stability, please use the
3.0 oz.
It is the same 1.5 oz invisible mesh,
but applied with heat to solidify your entire embroidery process. This fusible mesh is a special low melt adhesive that activates at 260F, so it will not scorch nor shrink your fabric. Leaves almost no trace and is invisible!
By fusing the stabilizer to the back of the garment, the fabric will not move or stretch leading to better registration. The stabilizer is temporarily attached to the entire area where the embroidery will be stitched. It eliminates the use of adhesive spray.
Modern embroiderers crave this new product. This nylon 1.5 oz invisble mesh cut away will give you stability and will be invisible and discreet after the embroidery application. If you double it with 2 pieces diagonally superposed, it will increase your stability tremendously.
One layer should support 10-12,000 stitches of a
moderately dense design. If you sandwich a tearaway behind it, it should hold a lot more and be more stable to tackle those soft sinking new fabrics on the market today such as performance wear, polyester polo shirts, etc…
9.75 inches wide, 10 yards per roll. Thickness of 20 micron.
Ideal to leave your stitches on top of your garment.
This product works by holding the stitches above
the fabric during the embroidery sewout process.
Place on top of your embroidery or even hoop it to help with tightness and stability. Once you are done with the embroidery process, simply remove the remaining larger pieces by tearing, and smaller pieces can be easily removed by a spritz of water from a spray bottle. Remnants will wash away during regular wash. Applied on towels, polar and other soft sinking fibrous fabrics.
The most popular cut away for all types of commercial embroidery now made available to you in small rolls. This high quality backing is a non directional, very dense, soft and drapable and wet laid.
Made of cellulose and polyester. There is a silicone so it will even lubrify your needle as you embroider.
One layer should suffice for the highest of stitch
counts, up to 50,000 stitches. Use on all types of fabrics from the thinnest to the softest, it will provide the best stability on the market today. Ideal for jacket backs.
Superpunch hopes this embroidery stabilizer guide is helpful
to make your embroidery application a success. If you have any other questions concerning our stabilizers, please check our Frequently asked questions in our stabilizers page or send us an email.